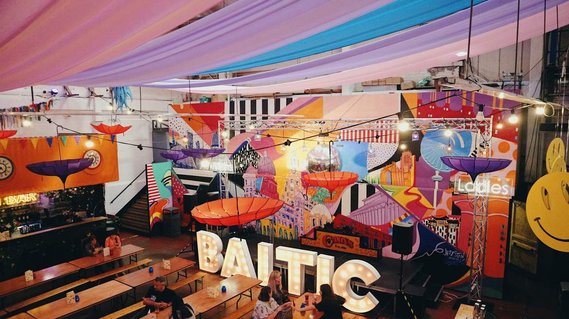 Liverpool based mural artist Jessica Arrowsmith Stanley, AKA Jazz Stan, works with a mix of media in a diverse range of styles and sizes.

A fusion of fine art technique and contemporary sensibilities underpins her aesthetic, resulting in bold, engaging works.

The work has recently expanded to include elements of abstract expressionism, working with more natural tones and automatic mark-making to communicate the artist's perspective more clearly.

Commissioned works vary from large scale murals to original canvases in colour schemes and styles catered to the clients' preference. Prominent public works are in situ from the across the Northwest to London and Dubai

A part of 104 Duke Street collective and Creative Debuts.
CLIENTS
Disney
Instagram
Estrella Damm
Waterstones
Red Bull
Independent Liverpool
Pretty Wow Dubai
Lovetefl
Smileworks

Pins Social Club-Liverpool
The Nakery-Liverpool
Jungle Rumble-Leeds
Turncoat Gin - Liverpool
Use Space - Manchester

Peaberry - Albert Dock
Gossip Session Salon - Wirral
Tap - Liverpool
Urbanista Hotels
Majestic Salon- Wirral
Unite Students
The Pig Shed - Liverpool
Perry's Cakehouse - Liverpool
Sweets of the street - Ormskirk
Dollydaydreams - Liverpool
Elephant - Neston
Nowhere - Woolton
Taskers Sports
Jaloux - Liverpool

Avenue - Liverpool
Barons Quay Social - Northwich

The Roll & Stop Photography Shop
Vitaflo International
The Dead Crafty Beer Co - Liverpool

Hafla Hafla - Liverpool
Brookfield, Citypoint - Moorgate, London
Work.Life - Clerkenwell London
The Cheesegrater - London
N H Interiors - Liverpool
Liberté - Liverpool
Baltic Market - Liverpool
One Aesthetic - Alderley Edge
Marine Street Social - New Brighton
The Bickley Pub - Bromley
Beer Engine - Liverpool
Scouse Mouse Books
The Wine Club - Rainhill
Plastic Freedom - Crossens
Trapeze bar - Old Street
Knowsley Council - Knowsley Hall
Le Meridien Hotel - Piccadilly, London
The People's Park Tavern - Victoria Park, London
Duke and Duchess - St Pauls, London
VisitLiverpool - Liverpool

Cedar- Liverpool
The Office Group - Shoreditch, London
Kenyon Fraser - Liverpool
Like Digital Media - Shoreditch, London
Beyond Retro - Dalston, London
Tony's Barber Shop - Heswall
Grins Gin - Chester
Underworld - Camden, London
The Lions Den - Southport
Undercroft Bar - Harrow, London
Joseph Massie Studio - Liverpool
Cast North West - Wigan

ULU Student Union - Warren Street, London
KGV College - Southport
Monkey Puzzle Nursery - Southport
Project Rex - Liverpool